CL Web Developers
Your Trusted
Digital Partner
We develop and support web-based solutions that help businesses scale.
About Us
Introduction
Who We Are
We are an incorporated digital company based on the west coast of Canada. Together, we're on a mission to accelerate businesses into the digital future, with trust and passion at the helm of our relationships.
As digital transformation continues to permeate all business models, we believe that having a dedicated and reliable digital partner is essential to driving successful outcomes. Our team is highly experienced, and we have a proven track record of delivering exceptional web development services to hundreds of businesses locally and globally.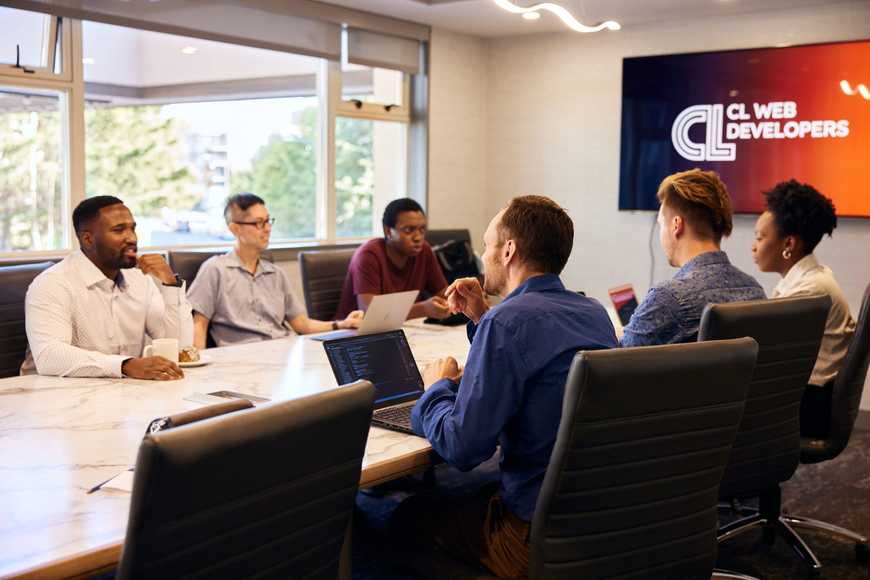 What We Do
We Offer Professional Digital Services
Design
We prioritize collaboration and customer focus in our web design process, ensuring that we accurately capture your company's unique personality and goals. Whether you're in need of a new website or a redesign, our team will work closely with you every step of the way to bring your vision to life.
Development
We have a skilled team of vibrant web developers with decades of experience in both front-end and full-stack development. Over the years, we have worked on hundreds of projects across Canada, US, and Europe. So if you're looking for a trusted partner for your next web project, look no further!
Hosting
We harness the power of cloud technology to deliver world-class hosting environments specifically tailored to WordPress websites. Through our platform we streamline crucial operational tasks such as load management, daily backups, SSL encryption, software updates, and more.
Support
We are a team you can trust when it comes ongoing maintenance and responsive technical support. We offer onshore, end-to-end, and real-time support to all our valued customers. Work with us and we'll support you with everything from system updates to complex troubleshooting.
Strategy
We also have talented service delivery partners that develop and implement strategies that drive results and improve your online success. Whether you need help with digital advertising, search engine optimization, or customer relationship management systems, we can connect you to the right experts.
Testimonials
Customer Happiness is Our Driving Force
"
"CL Web Developers have been helping me to develop my website over the past year. I am very pleased with the service they provide for three main reasons. Firstly, they are very knowledgeable and competent – they regularly find neat solutions for difficult problems. Secondly, they are professional and trustworthy – I have complete peace of mind with them hosting and maintaining my website. Thirdly, they are a pleasure to work with – they give prompt attention to any problems and always provide a pleasant, friendly service. I have no hesitation in recommending CL Web Developers to anyone needing web hosting and development services."

"
"I am so pleased with how the website has turned out and I am so thankful for all your hard work on it! I feel so confident sending potential clients to our new site and with our plan to launch it on our 36 year anniversary is a very proud moment. Your patience, expertise, and suggestions are so much appreciated and the final product speaks for itself. I will highly recommend your services to anyone."

"
I previously had my website service in Rochester New York for two years. After discussions with CL Web Developers, I was convinced to migrate my website services back to Victoria BC for a localized position with added service value. I have received first-in-class operational and maintenance service with great collaboration. The team took the quality content I created and structured it in a well-designed functional and easy-to-navigate website. The site is visually appealing, polished, and professional. They optimized the mobile usage for any platform, it works quickly, and the website is readily accessible with easy-to-find points of contact for the audience. This high-level overview gives Maccrim Solutions the value I was seeking for our web presence.

Richard Michaels
CEO, Maccrim Solutions
"
James and his team exceeded all of my expectations! Not only is my website visually stunning, easy to navigate and an asset I feel really proud to share with the world but working with James made every aspect of the process enjoyable and pain-free. He is a great communicator, a skilled collaborator and helped me to finally publish a website- something I had been avoiding for years. He made the process fun, creative and gratifying. I highly recommend him, his skills and enthusiasm are an asset to anyone in need of a website.

Nikki Sanchez
Founder, Decolonize Together